Movie Information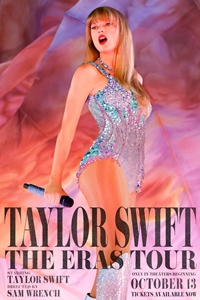 TAYLOR SWIFT: THE ERAS TOUR
| PG-13
Runtime: 2:48
Director: Sam Wrench
Starring: Taylor Swift
Synopsis: The cultural phenomenon continues on the big screen! Immerse yourself in this once-in-a-lifetime concert film experience with a breathtaking, cinematic view of the history-making tour. Taylor Swift Eras attire and friendship bracelets are strongly encouraged!
This film opens on 10/13/2023
Check back closer to the release date to purchase advance tickets!