Movie Information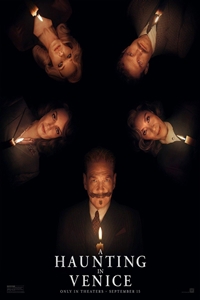 A Haunting in Venice
| PG-13
Runtime: 1:43
Director: Kenneth Branagh
Starring: Kelly Reilly, Kenneth Branagh, Michelle Yeoh, Jamie Dornan
Synopsis: "A Haunting in Venice" is set in eerie, post-World War II Venice on All Hallows' Eve and is a terrifying mystery featuring the return of the celebrated sleuth, Hercule Poirot. Now retired and living in self-imposed exile in the world's most glamorous city, Poirot reluctantly attends a séance at a decaying, haunted palazzo. When one of the guests is murdered, the detective is thrust into a sinister world of shadows and secrets.
This film opens on 09/15/2023
Check back closer to the release date to purchase advance tickets!